Jail Information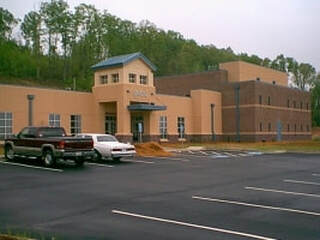 Sheriff Mason is committed to treating inmates with respect and dignity.
The Union County Jail is primarily a pretrial holding facility where persons accused of crimes, who cannot bond out, await their court dates. The Jail accepts people that have been arrested by Union County Deputies, Blairsville Police Department, and any other state or federal agencies. The Union County Jail also houses persons sentenced to serve up to 12 months and persons sentenced for more serious crimes until space is available at State Facilities.
There are 54 beds for general housing and 3 beds for observation. There are 3 meals served per day which include 2 hot meals and 1 cold meal. There is a full time medical assistance available, which includes a LPN, that is on site 7 days a week. A doctor is available through Tele-Med 24/7.
The primary concern of the Jail Officers is the safety and security of all of the inmates, visitors, and staff, while performing all the duties necessary to keeping the Jail running efficiently.
The Union County Jail prides itself on the dedication, integrity, and honesty of these Officers. The Jail Officers work very hard and are willingly go beyond the requirements for their normal duties to perform their responsibilities. It is because of the quality and dedication of these officers that we believe the Union County Jail is one of the best in the State of Georgia.
​
The Jail also has a program through Mountain Education for inmate ages 17-21 to earn their high school diploma. The program is computer based and can be continued when the inmate is released from custody.
Inmate Work Detail:
Sheriff Mason along with Commissioner Paris recently established a county work detail. This work detail consists of up to 5 low risk inmates that are closely supervised by a certified jail officer. They are taken to county properties to perform general maintenance such as; cut grass, trim trees and bushes, pickup trash, and many other tasks. Using this inmate work detail, it has saved tax payer dollars.
Inmate Accounts:
The Union County Jail sets up individual accounts for each inmate that family members and friends can deposit money orders in. Cash will not be accepted. Money orders can be brought or dropped off during visitation hours or brought to the bonding window at any time. The inmates can buy snacks, stationary items, some clothing, and hygiene items. These items are also available for family and friends to purchase directly online or money can be deposited on the inmates account at
https://deposits.jailatm.com
A credit card or debit card is required.
Phone services are provided by Combined Public Communications. Funds may be deposited on the inmates phone account by using a kiosk that is located in the visitation lobby. Kiosk will take cash, credit, or debit cards, or by going online at
www.inmatesales.com
(credit or debit card required). You can call Combined Public Communications at 1-877-998-5678.
---